Hey lovely people. I'm admitted a bit swamped this week so let's jump right into it. Wednesdays = food days, haven't you heard?
How I've been taking my coffee:
Almond milk, vanilla stevia, and pumpkin spice.
Why you coffee at home > coffee out:
All the foam.
How I've been doing dinner:
Breakfast for dinner. Is there anything better?
Why the above didn't involve oats:
I have a box of quinoa flakes to use up. That bowl was quinoa flakes soaked in almond milk and coconut water with raspberries, figs, Siggi's, protein powder, maca, mesquite, chia, flax, and honey. Whew, that's a mouthful of add ins. Literally. I'm an add-in junkie. Just ask my smoothies.
How I've been eating my veggies:
Roasted burnt.
Why I ate an inordinate amount of Brussels in one night:
I am dipper.
How I've been branching out:
Trying new fruits. This is a white capote. It tasted like a deliciously custard-like apple. They grow locally in California, but this was the first time I had spotted one.
Why I'm not eating pounds of berries:
It's fall. I keep repeating that to myself.
How I've been getting in my potassium:
Dousing my bananas in coconut cream, cinnamon mesquite syrup, raw honey, and date sugar. Pretty food just tastes better. It's a fact.
Why bananas can't always look pretty:
Sometimes you are just in a hurry.
How I've been thanking my body:
Green juice. Kale, lemon, ginger, and coconut water.
Why juicing myself sometimes is necessary from a cost perspective:
Too many juice and kombucha purchases.
How i've been drinking my smoothies:
By eating them.
Why that smoothie tasted like ice cream:
The frozen bananas are key. No ice or almond milk in this one, just frozen banana, frozen berries, frozen figs, frozen dragon fruit, coconut water, bee pollen, and honey.
How I've been spending my weekends:
Baking fig and chocolate chip muffins. Refined sugar-, gluten-, dairy-, blah blah blah-free. Recipe courtesy of the ever amazing aficionado of all things yummy Sara. There are rumors she will be sharing the recipe soon so keep a look out.
Why I have no memory left on my phone:
So.
Many.
Food photos.
A nice big thank you to Jenn for hosting, and be sure to pop over there and check out the other What I Ate Wednesday link ups.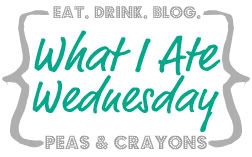 Have you baked anything yummy this week?
Have an amazing day!
Related Posts: