It has been much too long since I've joined in with the weekly foodie party and shared my eats, so here goes!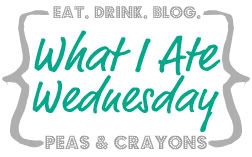 Be sure to show your love to
Jenn
for hosting. Have no idea what I'm rambling about? Check it out
here
.
There is absolutely no semblance of organization to this post whatsoever, and certainly no cutesy theme, just a mess of photos of what I've been eating lately.
Overnight oats.
And hot oats. I know it's summer.
Zucchini noodles with homemade from the jar red sauce.
Chocolate protein smoothie.
Siggi's skyr with a recipe failure matcha protein bar crumbled on top.
Oh Yeah Victory bar. Good, but Quest still has my heart.
Ground beef, eggs, peas, and goat cheddar.
Yogurt with chia seeds. This was 2% Greek. Heaven.
Bison and veggie stir fry with shirataki noodles and so much goat cheese.
Chicken apple sausage, fruit, pickle. Weird snack, I know.
Arctic zero topped with chocolate chips and a Quest bar.
Protein waffles made with Slap cinnamon swirl whey.
Banana muffins.
More salads. Every single day.
See, I promise I've still been eating. And photographing. Because if there's no photo, it didn't happen.
Favorite summer meal?
Related Posts: